When one of the fluids is air or lightly pressurized gas, the use of a coil-type heat exchanger is generally necessary. Several of these applications require very large exchange surfaces obtained mainly by extruded fins.
While being suitable for all applications, the quality of industrial coils custom-made by Caron et fils is perfectly suited to more demanding industrial applications with the use of extruded aluminum fins. Tubes made by our factory rotary extrusion process have very high thermal efficiency. In addition to being more resistant, finned tubes have excellent contact between the aluminium extruded fins and the wall so thermal contact resistance is negligible.
Exchangers
Heating units (steam, hot water, glycol or other)
Dehumidification units (cold water, refrigerant or other)
Kiln and process dryer coils
Recognized quality materials
Casing: Steel, stainless steel (304L or 316L), galvanized steel
Manifolds/nozzles: Steel, stainless steel (304L or 316L) or other
Tubes: Steel, stainless steel (304L or 316L), copper, copper/nickel or other
Industries
Pulp and paper and wood processing
Food processing
Manufacturing transformation
Chemical
Shipbuilding
Production capacityRecognized quality materials
Fin extruder according to the needs of the project
Component cutting and preparation equipment
CNC drilling and bending machine
Various welding processes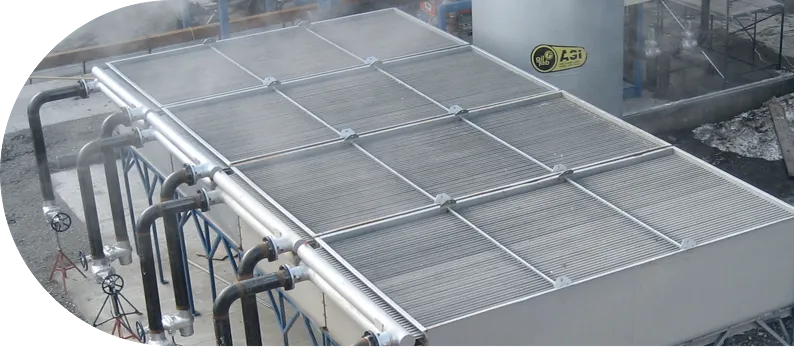 Applications
Drying of a process (wood, fabrics, etc.)
Conditioning of a process
Industrial gas heating for processing
Energy dissipative system
Energy Recovery of industrial fluids for heating units
Manufacturing standards and warranty
Caron et fils ensures compliance with the laws and regulations of the equipment built, reconditioned or repaired and makes it a point of honor to exceed the standards recognized in the industrial environment.
Caron et fils warrants to the first purchaser that its products are free from design defects in materials and workmanship for a period of one year from the date of the final invoice from Caron et fils.
We are accredited to CSA B51 (Boiler, Pressure Vessel and Pressure Piping Code) / ASME Section VIII, Div. 1 (Boiler and Pressure Vessels).
Need more information?
Consult
our team
Caron et fils offers you its expertise and its team is at your disposal to find the heat exchanger that will provide the solution to your needs.