Over the years, Caron et fils has developed its manufacturing expertise in the sizing and manufacture of shell and tube heat exchangers (shell & tube) of different models BEU, BKU, NEN, AEL, etc.
These heat exchangers are used for applications as diverse as the transfer of energy between two liquids, between a liquid and a pressurized gas, for the condensation of steam, for the generation of steam or any other application where the two fluids must be confined in sealed envelopes specifically designed for this purpose. We manufacture custom shell and tube.
Appareils
Evaporator
Condenser
Floating head tube bundle
Tube bundle (Construction / retubing)
Any TEMA configuration
Recognized quality materials
Steel
Stainless steel (304L and 316L)
Copper
Copper/nickel
Monel
Titanium
And more.
Industries
Chemical
Energy
Pulp and paper and wood processing
Food processing
Shipbuilding
Production capacity
Lifting equipment up to 20T.
Large production bay
Positioners and handling equipment
Various welding processes
Metal machining and bending equipment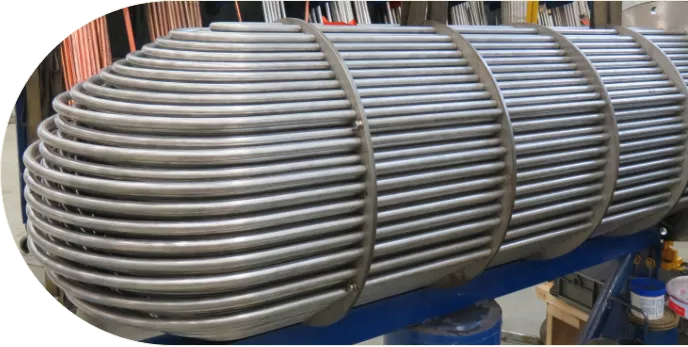 Applications
Industrial process control
Energy Recovery
Tank heating
Manufacturing standards and warranty
Caron et fils ensures compliance with the laws and regulations of the equipment built, reconditioned or repaired and makes it a point of honor to exceed the standards recognized in the industrial environment.
Caron et fils warrants to the first purchaser that its products are free from design defects in materials and workmanship for a period of one year from the date of the final invoice from Caron et fils.
We are accredited to CSA B51 (Boiler, Pressure Vessel and Pressure Piping Code) / ASME Section VIII, Div. 1 (Boiler and Pressure Vessels).
Need more information?
Consult
our team
Caron et fils offers you its expertise and its team is at your disposal to find the heat exchanger that will provide the solution to your needs.